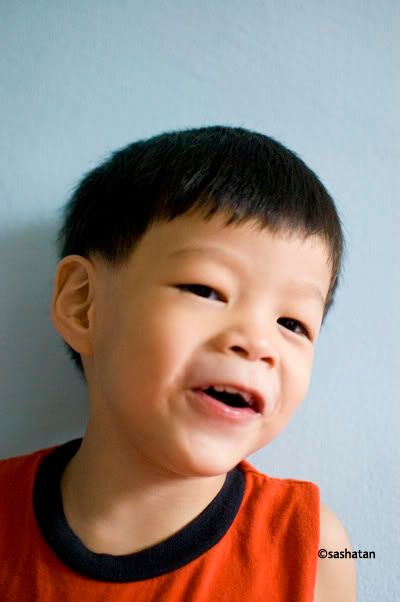 Before sleep, I'll normally take the initiative to chat with Jayden to improve his communication skill. He is still not chatting like his peers. So one day I asked him:
Me: Jayden can you pretend to be mei mei?
Jayden: *pretend a blur look that looks like the girl I have mentioned*
Me: hahahhahah Okay Now you pretend to be JoJo.
Jayden: *pretend to be shocked like how the boy looked like*
me: hahahahaha Okay Okay now you pretend to be Paris.
Jayden: I want be teacher Mani.
Me: Okay go ahead.
Jayden: errm I want be teacher Hera (his principle)
Me: Okay.. how?
Jayden: Ek! Notty huh? Go Office!
Me: *surprised* hahahahahahaahahhahaha
The next day when I drop him off to his class I managed to meet up with teacher Mani. And I told her about him acting like teacher Hera. Apparently this lil boy of mine was sent to office a few times because he refused to write himself without Teacher Mani holding onto his hands. You see, last year he was the youngest when he joint the class and he was teacher Mani's pet student. Now that he is not the youngest, teacher mani gotto focus on the younger ones. They will ask him to sit in front of the principle and Voila! he can write by himself and even can colour the picture himself.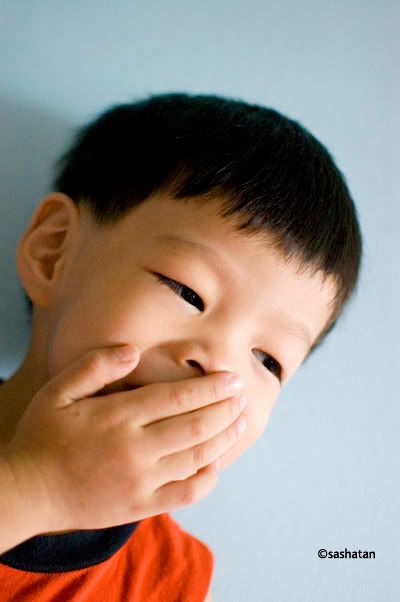 Jayden says: Oppssss now you know my secret in school