My mami brought me to the sch last Saturday and got me this...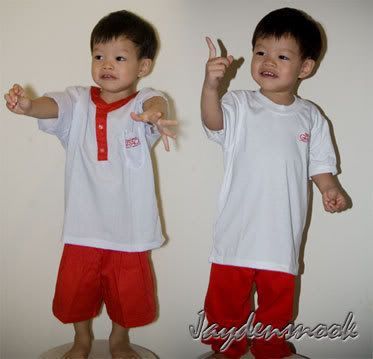 and then she let me play with otehr kids in the class for a while.

Yesterday she brought me to the school again and there were 6 other kids in the class. My teacher is teacher Mani, teacher Lydia and Teacher Venessa. Since I'm new, teacher Lydia asked me to sit next to her. I did ! I did! and I sat for a while looking at them drawing lines and counting 1,2,3.


And then I got bored and started to read the alphabets on the wall and sometimes I like to jump like Tigger.


Then it was recess time and we had biscuit and Milo. After that I started running around the sch and teacher mani played catching with me. We went dancing after that in a big hall. I had so much fun running around. Then I saw mami at the door and asked her to join me dancing.

And then it was back in class and we did some colouring again. And then teacher Lydia say "okay let's pack your bags and Q up to go home" And everyone walked out except me because teacher Lydia carried me cos I was tired and sleepy.

Mami joint me at the gate and when the sch bell rang, everyone said "YAY!!!!!!" I said "YAY" too but I have no idea what is happening.

Then mami drove me to Aunty May's house and I cried. I want to follow mami home. I don't like aunty May's place because Aunty May always help the girl to snatch my toys and food. And Mami said since Aunty May dun wanna take care of me anymore I wil be going to daycare in my school. Then I have more friends to play with!